Jason Mixter, MFT
Certified Advanced Rolfer
Certified Rolfing Movement Teacher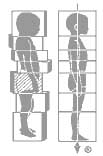 Jason Mixter, MFT

Certified Advanced Rolfer
Certified Rolfing Movement Teacher
Marriage and Family Therapist

IN MEMORIAM

William Jason Mixter III
1945-2009
Obituary

Rolfing® (Structural Integration) is an elegant system of soft tissue manipulations that focuses on bringing the body into alignment and balance in field of gravity and, despite what you may have heard; it does not have to be painful. When a body is stable in gravity, it functions with ease, grace and flexibility, thereby alleviating chronic pain, stress and stiffness. The results are permanent and the body continues to improve its function long after completion of the series.

As a Rolfer with 30 years experience, I guarantee to improve your posture, lessen your pain, and have you feel better about yourself in one to three sessions

I have a BA from Harvard, MA from the California Institute for Integral Psychology, trained with Dr. Rolf directly, am a Certified Rolfing Movement Teacher, teach at the Rolf Institute in Boulder, studied and taught at the Esalen Institute for ten years, and was licensed in CA as a Marriage and Family Therapist (MFT). I have also presented at The American Psychological Association's Annual Meeting. I am an avid tennis player and skier and enjoy working with people who wish to improve their performance in these or other sports. For the past three decades I have earned my living exclusively as a Rolfer and Psychotherapist.

I managed a very full private practice (usually with a waiting list) in San Francisco for 15 years and now, I have recently established a new practice in Marin County, California.

Past Rolfing clients include Richard Price (co-founder of The Esalen Institute), Craig Swan (pitcher for the NY Mets), several dance companies (including Celine Dion's company in Las Vegas), Holistic Health pioneer, Emmett Miller MD (http://www.drmiller.com/), Maggie Eastwood (Clint's first wife), and Merv Griffin.

Testimonials:

"I have known Jason Mixter for more than fifteen years and have full confidence in his personal integrity and therapeutic skill. I highly recommend him." William C. Schutz (author of Joy and The Human Element).

"I have known Jason for almost 20 years, ever since he was kind enough to mentor me as a new Rolfer. I have the utmost respect for him, both as a Bodyworker and as a teacher…as well as an almost uncanny ability to effectively teach across a very broad population…" (Art Riggs, author of Deep Tissue Work http://www.deeptissuemassagemanual.com/artbio.html)

"I had the opportunity to work with Jason Mixter last year and experienced phenomenal results. I tore my hamstring muscle while playing tennis. This affected my ability to sit, stand, run and walk. I was very irritable and frustrated with the lack of results with chiropractic care and physiotherapy. Jason's ability as a Rolfer identified where the imbalances were. The treatment corrected the imbalance and restored my function. As a chiropractor, I was able to learn some techniques, which have improved my own patient outcomes." (Douglas A. DeSalvo, D.C., Q.M.E.)

"I personally first met Jason in the context of tennis when I had progressively increasing pain and stiffness in my "serving" shoulder. The first session was on the court and relieved my pain so effectively that I could finish out the set with no limitation at all. I have, and continue to, refer patients to Jason for Rolfing. In all cases the patients have reported a remarkable decrease in pain and stiffness. The referrals have stemmed from both my medical practice and a very large population of active athletes in my tennis league." (Fredric V. Saland MD)

"It is a delight for me to recommend Jason Mixter whom I have known for about 25 years… Jason is very creative, skilled, personable, and has a great sense of humor. I recommend him without hesitation or reservation. Prepare yourselves for a real treat!" (James L. Oschman, Ph.D., author of the Best Selling Energy Medicine: The Scientific Basis, and Energy Medicine in Therapeutics and Human Performance)

I can provide you with better posture, less pain, more ease and flexibility of movement, and you can expect results immediately.